Country House in Umbria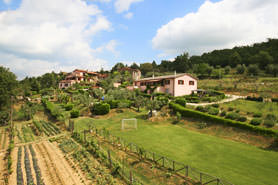 Located in Umbria, Country House Marilena la Casella is a farm open to tourists which offers its guests a real agritouristic experience. A country house (called "agriturismo" in Italian) is not only an accommodation in the countryside but a way to show agriculture, its produce, farming and the relationship with nature and the surrounding territory. In the past our country house was occupied by farmers and today it has been renovated into six rustic accommodation facilities, a lovely restaurant, a swimming pool and 2 hectares of fields where we produce vegetables and breed animals. The country house towers above the whole valley of stream Niccone and the view opens onto such beautiful hills, the cultivated valley and the ruins of two old castles in the distance.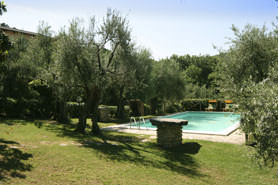 Our restaurant is famous for preparing traditional recipes with food from organic growing, which is produced on our fields and in other parts of Umbria. We transform what we cultivate and breed into freshly home-made dishes that are served with excellent wines. Season after season we devote ourselves to agriculture, letting our guests take part into grape harvest, vegetable garden cultivation, olive picking and animals breeding. Everything is thought for you to live the authentic simple life in the countryside. We also organize cooking classes for those who love this fantastic art and special entertainment for children with our lovely animals.