Water sports on Lake Trasimeno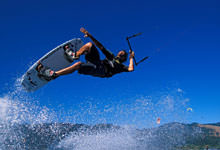 Umbria is the only region in Central Italy not lapped by the sea; however there is plenty of opportunity to have fun and stay in shape with the water sports you can do at Lake Trasimeno, just 10Km from Country House Marilena la Casella. Lake Trasimeno's characteristics – its large size and limited depth – render it the ideal place to go Kitesurfing, Wakeboarding, Sailing and Windsurfing.
These water sports can be done thanks to Kitemaniak School, an association carrying out its activity on the beach of lake Trasimeno. The school is the only FIV (Federazione Italiana Vela – Italian Sailing Federation) centre in Umbria for Kitesurfing instruction. The instructors are FIV and IKO (International Kiteboarding Organization) certified, and will be able to provide a suitable training to those wanting to give this magnificent sport a try, in a safe and professional manner.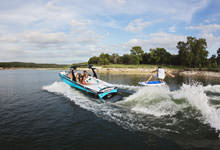 All lessons include the use of educational and technical materials, an annual federal (FIV) insurance, and the issuing of FIV and IKO certifications and licenses. Further, Kitemaniak is also a Wakeboard and Windsurf school with security and recovery service with the aid of boats and radio.
The staff of Country House Marilena la Casella will be happy to help you in organising your day at Lake Trasimeno. Our clients are welcome to take advantage of special discounts on all the services available on the Lido di Tuoro beach: beach umbrellas, deck chairs, changing rooms, hot showers, bike rental, canoes, beach volley courts and much more.
After an explosive experience on the waters of Lake Trasimeno, indulge in a romantic and relaxing dinner in our restaurant. What better way to end your splendid day of vacation? For more information contact us specifying all of your wishes in your request with no obligation.