They say about us
TripAdvisor® Reviews
Guestbook
Our first family holiday to Italy – a great success. Excellent location and confortable accomodation. Made good use of the pool and was well looked after by Giuseppe and family. Thank you so much – we hope to return next year.
---
We discovered tranquil San Martino in June 1999. We enjoyes the apartment with wonderful views, the pool and garden and the warm hospitality of Giuseppe and Marilena. Returned with friends in 2002. And again with friends now to the added attraction of Marilena's superb home-cooked food in the restaurant. We love Umbria and all its many cities and attractions. Grazie.
---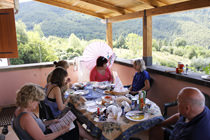 My brother, sister and I want to thank both of you for your wonderful hospitality during our stay at Sole. We especially enjoyed your warm welcome, watching you make the wine, and your kindness and patience in answering our many question in our struggling Italian. We hope to return someday soon. Grazie e arrivederci.
---
Our return visit to Italy and Marilena la Casella – it was so good – last year we simply had to return. What a pleasant surprise to see the improvement in facilities (on site restaurant). Excellent home looked food and definitely a meal to remember. Brillant hospitality offered by Giuseppe and Marilena once again thank you so much for making our stay so enjoyable. We will certainly recommand the our friends visit. We hope to return one day. Tanti auguri!
---
Giuseppe & Marilena thank you for your hospitality & friendliness. We loved the pool, gardens, views & exploring the beautiful local towns. We look forward to returning for future holiday.
---
Thank you for a wonderful time, we really enjoyed our stay with you for James's 80° birthday celebration. You took care of all 20 of us very well. This was our first family holiday in Italy and I am sure we will be back. Your place was perfect for us, it had everything we needed.
---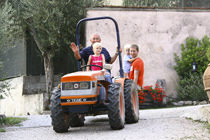 Thank you so much for your warm hospitality and friendliness during our stay. We enjoyed our time here and will recommend "Marilena" to our friends. Grazie e arrivederci!
---
Many thanks Giuseppe & Marilena for allowing us to shake your lovely part of Italy. Excellent base to tour Umbria & Tuscany but also enjoyed the peace & beauty of San Martino & its surrounding area. Many thanks for your great hospitality. We have had a wonderful holiday here; beautiful place, great food, and friendly people. Hoping to come again soon! We will tell all our friends too. Many thanks.
---
Giuseppe and Marilena thank you fo your hospitality and friendship. We had an enjoyable 2 days there! We loved the place and your excellent food! Thanks again.
---
Dear Marilena & Giuseppe we had a wonderful time here in Umbria - thank you very much for your hospitality! Great food, lovely apartment, nice facility, and very good service - what else could one wish for?
The photos taken by our guests