Marilena and her cooking classes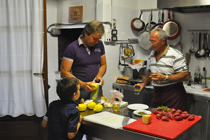 Marilena invites you to taste her organic food and to get to know Umbrian and Tuscan gastronomic traditions, passed on from generation to generation as legacy to be carefully preserved. We offer cooking classes for you to learn creating and cooking dishes by perfectly combining ingredients and to know how to match food and wine. Everyone who loves our cuisine and who wants to discover the traditional flavors of Umbria and Tuscany is invited to attend our classes.
Marilena's classes take place in the afternoon from 3pm to 8pm and last one hour minimum to three hours maximum. During classes you will be thought how our recipes are usually prepared, from starters to desserts. Everything you will make will be then tasted by guests for dinner. All classes require a mandatory reservation at least one day before.
| Participants | 1 | 2 | 3 | 4+ |
| --- | --- | --- | --- | --- |
| 1 hour | 30,00 € | 50,00 € | 70,00 € | Contact us |
| 2 hours | 50,00 € | 90,00 € | 120,00 € | Contact us |
| 3 hours | 70,00 € | 130,00 € | 170,00 € | Contact us |
The dishes you prepared