Motorbike holidays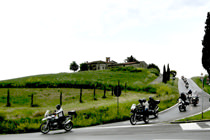 When spring comes the roads of the upper valley of Tiber become full of bikers. Those who choose Umbria can find beautiful roads, unforgettable landscapes and the most beautiful art towns in Central Italy.
Stop, it's lunch time!
The favorite stop for bikers is a place where they can relax and taste the typical Umbrian cuisine: eat good and genuine food at special prices. The most suitable place for you is certainly restaurant Marilena la Casella:
Full menu: first course, main course, side dish, dessert, water, wine and cofee at 25€ per person
Biker's menu: appetizer, first course, dessert, water, wine and coffee at 15€ per person
Reservation for groups would be appreciated.
Motorbike Stay
Bed&Breakfast: 35€ per person per night
Overnight stay and half board: 55€ per person per night
Overnight stay and full board: 70€ per person per night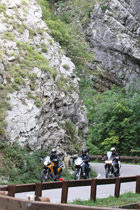 Valid for week-ends from April to October.
We serve Buffet breakfast. Our traditional cuisine offers home-made typical recipes. Specials: charcoal grilled meat, home-made pasta, cannelloni, wild boar, rabbit, fallow deer, hare and much more!
Apartments with two bedrooms, bathroom, kitchen, living room and balcony. Private parking, final cleaning, electricity, water, bed linen and towels included in the price.
Facilities for bikers
Free garage for motorbikes
Possibility to wash and repair motorbikes
Maps of the area with itineraries